Item No.
Lonsdor002
Item Name.
LONSDOR K518S Key Programmer Support Toyota All Key Lost with 18 Months Free Update Online
This package includes:K518S Basic Version + K518S First Year Update Subscription (Total 18 Months Free Update Online)
LONSDOR K518S Key Programmer Support VW 4th 5th IMMO & BMW FEM/EDC & Toyota H Chip Key

Promotion:Lonsdor K518S first year update subscription only $480!!! Valid till Feb 29th,2020.


This package includes:K518S Basic Version + K518S First Year Update Subscription (Total 18 Months Free Update Online)


Top Reasons to get Lonsdor K518S Full Version:
1.Language: English

2.Update: One key update online;18 months free update online

3.No Need Token for all cars

4.Covers all functions of SKP1000 and Lonsdor K518ISE

5.Lonsdor K518S can program Toyota/Lexus smart key all key lost via OBD by working together with extra LKE Smart Key Emulator 5 in 1(optional)


Notice:
Both Lonsdor K518S and Lonsdor K518ISE share the same Immo functions and vehicle coverage.
Check here know difference between Lonsdor K518ISE and K518S


Lonsdor Menus are divided into two parts: free menus(black color in list) and subscribed menus(red color in list).
1.Free menus are free use for lifetime.
2.Subscribed menus can be used for free for 180 days. You need to pay for them after the trial period

Lonsdor K518S Menus (Car List) Download


Lonsdor K518S Key programmer Special Features:
Volvo (S40, S60, S80, XC60, XC90, C30, C70, V40, V60, V70) key programming.
Toyota/Lexus: smart key all key lost - via OBD ( without dismantle)
BMW CAS3/CAS3+/CAS3++: direct OBD programming
BMW CAS4/CAS4+: dismantle & read data programming
16 -New Maserati: smart key programming
16 -New Ford: smart key programming
Hyundai / Kia 46/47/8A smart key: PIN code reading via OBD, all key lost included.
Renault ( Megane, Koleos, Scenic) without PIN code key programming
VAG group 4th & 5th immobilizer system
Ferrari (458, F12, F149): direct OBD programming
Peugeot /Citroen: two ways to read PIN code & programming, all keys lost included.

Lonsdor K518S Cars Coverage List for Immobilization:
Europe: Audi, BMW, Benz, VW, Volvo, Citroen, Ferrari, Maserati, Fiat, Lamborghini, Jaguar, MG,
Land Rover, Bentley, Lancia, Opel, Peugeot, Porsche, DS, Renault, Alfa Romeo, Smart,
Borgward

America: Cadillac, Chevrolet, Dodge, GMC, Buick, Hummer, Ford, JEEP, Lincoln, Mercury

Asia: Honda, Hyundai, Isuzu, KIA, Lexus, Mazda, Mitsubishi, Nissan, Ssangyong, Subaru, Suzuki,
Toyota, Shigaoka Queen

China: Iveco, Trumpchi, BYD, Geely, Chery, Great Wall, Young Lotus (Basically all Chinese car
models are included)

Lonsdor K518S Odometer Adjustment Car List:

VW, Porsche, Ford, Jaguar, Land Rover, Mazda, Audi, Renault, Hummer, Hyundai, Kia...
Note: K518S is still under rapid upgrading, more functions and be released soon, please refer to our website www.lonsdor.com foalso you can "One key update" for the latest version by yourself

How to Update Lonsdor K518S Key Programmer?
Connect to the network
the Lonsdor K518ISE car key programming software system will automatically update to the latest version.
There are 3 ways of system update:
1.One key update: quickly update the new added or modified functions.
2.APK update: this is used when the APK is updated.
3.Force to update: this is used when the device is faulty or to retrieve data.

LONSDOR K518 Key Programmer Newest Update
More Update Information,please check our Latest News & Update






Lonsdor K518S Main Unit Outlook: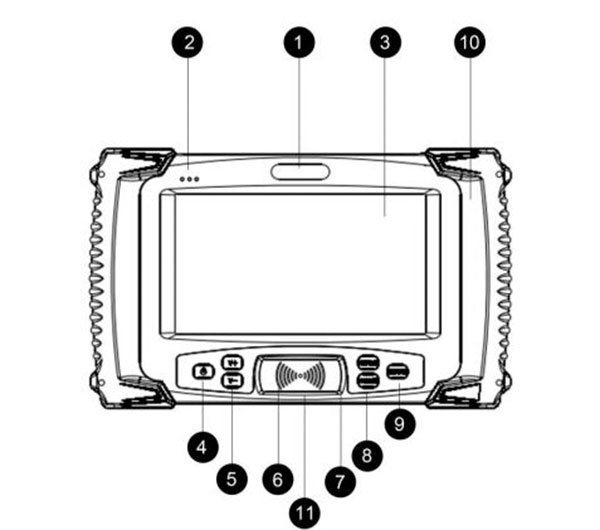 1. Trademark: Lonsdor
2. Three-color indicator in turn will be: red - external power supply; blue - system power;
yellow - communication status
3. Capacitive touch screen: display and touch operation function. 4. Switch: press and hold for 3s to start. When in start state, press and hold for 3s to restart
or shutdown, for 10s to force to restart. 5. Volume: adjust volume size
6. Key frequency & chip recognition system: place the key on the surface to detect
frequency, push the slot shell to the right and put the key inside to detect chip
7. Setting: enter to set
8. Home: home page interface
9. Return: back to previous step
10. Built-in antenna: antenna inside
11. Model: K518s
Screen shot: press power button and volume down button together

K518 Key Programmer Main Interface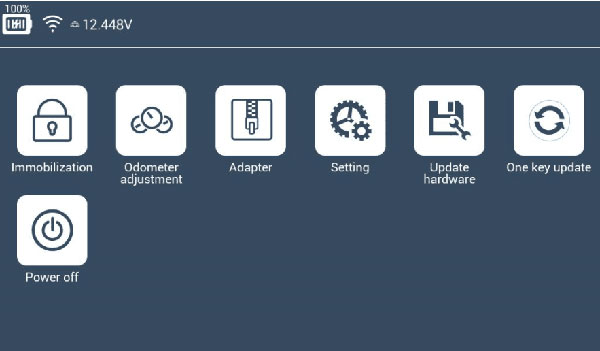 Immobilization interface: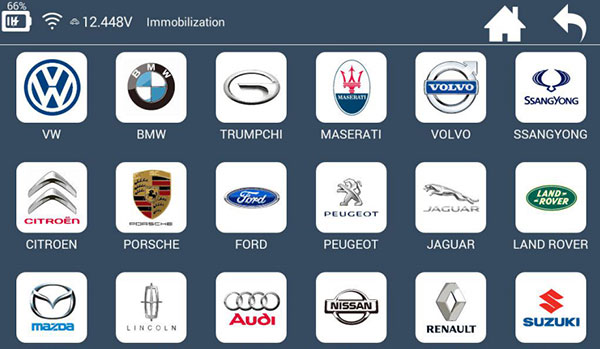 Odometer adjustment interface: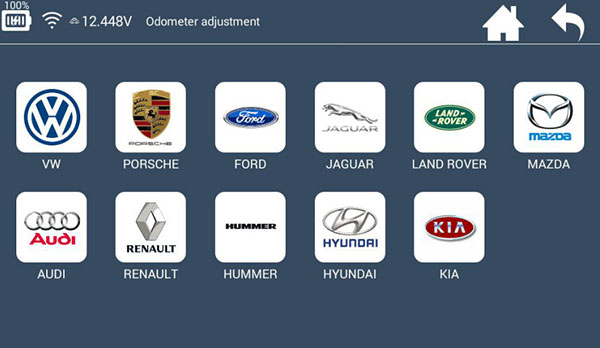 Setting interface: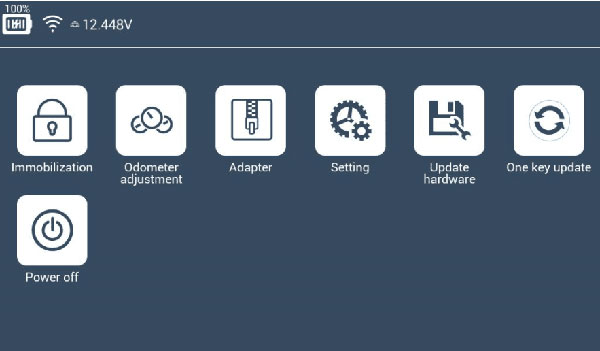 Lonsdor K518S Key Programmer Technical Parameter:

RFID Support: 125KHz ASK;
134.2KHz FSK
Battery capacity :3800mAh
CPU:ARM Cortex-A7 Quad-core
Processor Speed 1.34GHZ
Power supply :DC12V 1A
WIFI communication distance :10m
Power port:5.5x2.1mm
Display:1024x600, 7 inch IPS
capacitive screen
OBD port: OBD-II
Memory :eMMC 8G RAM 1G
Comm port: USB2.0-type B
OBDII protocols: ISO15765, ISO9141, ISO14230, SAEJ1850, KW1281, VW TP1.6 TP2.0 etc.
KPROG: support programming MCU and EEPROM on ECU circuit board.


Package includes:
1 x Portable Bag(big)
1 x Main Host
1 x Power Adaptor
1 x USB Cable
1 x Packing Bundle
1 x OBD Test Cable
3 x Extra Connector
1 x Londor K518S User Manual
1 x Portable Bag(small)
1 x KPROG Adapter
1 x RN-01 Board
1 x E-01 Board
1 x FS-01 Board
1 x 20P Cable
5 x Backup Pin
1 x Certificate
---
How to Register Lonsdor K518S best key programmer?
After system updating, you need go to registration&activation.
For new user,
Click on Registration,
Input: user name(email), name(min 2 char), password(min 6 char), email verification code
Click on YES
Lonsdor K518 key programmer registration completes
(if interrupted after registration is done, you will go to the System update–Registered user to proceed).
Then go to Activation confirmation to continue.

How to Activate Lonsdor K518S car key programmer tool?
After confirming activation, it will go thepassword Setup interface
set 6-digit numbers as your startup password
information verification by Lonsdor
(5-30 minutes, you can check the progress by clicking "Refresh" )
re-enter the password to verify
get the notification that verification successful
the whole process before using the device is complete.

The most important note:
1. User name must be workable email address, so that you can receive the verification codefrom Lonsdor by email.
2. Please pay attention to the difference between the registration password (min 6 char) and the startup password(6-digit), the former
will generally only used when registration, so please commit the 6-digit startup password into memory, as this will be required every time when you start the device.
3. The account will be bound to the corresponding device for life, other accounts can not log in your device and your account can not log
in an registered or activated device either. 4. An account can be used to bind multiple new devices.

Lonsdor K518S Review and Feedback:

Program Chevrolet Cruze Remote Key All Keys lost by OBD
Program Mini Cooper CAS3+ Remote Smart Key by OBD
Program VW Polo 2009 4th IMMO NEC+ 24C32 Remote Key
Program Ford Ranger 2016 Remote Key
Isuzu D-Max Remote Key
Ford Everest 2016 Remote Key
Program Suzuki Jimny 65 Chip Key
Program Ford Kuga 2013 Smart key without Pin Code
Program Lexus 74 Chip Smart Key All Keys Lost by OBD
Program Infiniti Q50 2014 Smart Key
Program Volvo C30 2011 Semi-Smart Key
Program Chevrolet Epica pre-2012 All Key Lost
Read Hyundai/Kida ID46 Smart Key Pin Code by OBD
Program LandRover Evoque 2013 Smart Key
Program LandRover Discovery 4 2014 5-button Smart Key
Program Porsche Macan Turbo Smart Key
Program Range Rover 2008-2015 Smart Key by OBD
Program Volvo XC60 Smart Key(Self Keyless/Full Keyless)
Program Renault Koleos 2011 Smart Key
Program Lexus ES200 Smart Key All Keys Lost by OBD(work with Emulator together)
Program Volvo V60 Smart Key
Add smart key on Maserati Ghibli 2017 success
Program Mazda CX-5 2016 All smart keys lost
Volkswagen Phaeton (2009) key programing
Lonsdor K518 Program Volvo XC60 smart key
Lonsdor K518 Program Volvo V40 Smart Key
Program Bentley Mulsanne 12 Smart Key
Program remote key on a Isuzu D-Max 4x4
Program Audi Q7 Smart key
Program Lamborghini LP560 Remote

Read Jeep Cherokess Pin and Program Smart Key by OBD
Read Hyundai i10 47 Pin code and program smart key by OBD
Read Peugeot 408 BSI Pin Code and Program All Key Lost by OBD

Change odometer on 2014 Ford Mondeo by OBD

Nissan prox works great.
2018 bmw x5 lost keys it did talk to car giving key positions
Dodge RAM1500 and Journey works
Mitsubishi ASX 2013 - year add key works.
Cadillac ESCALADE 2017 smart key works
Works on a part of Vag all keys lost 2010-
supports 4th Immo system 202AD key.
In another words, as long as the 4th IMMO can be read out data successfully by 202AD.
mini cas3 done
all key lost bmw 540 cas2 japon model done.
volvo xc60 done
reset G immobox done
immobox vw read pincode ok but no program key
test in vw amarok, program key done, kms done

Not work:
- Toyota h system not work
- bmw 2008 cas3++ would talk to car but cannot read isn id.

Lonsdor K518S Test OK Report:

2009 Ford Focus
2011 Ford F150
2011 Jeep Liberty via compass
2015 Dodge Caravan
2014 Dodge Journey
2004 VW Jetta
2005 Honda Civic
2015 Ford Focus
2017 Honda Civic push start
2017 Mazda 3 prox no code needed
2017 Ford C-max via focus
2012 Ford Focus by pass
13 Honda Accord remote head key
2013 Mazda 6 prox under new M6
10 Nissan Altima Puss to start
2014 Nissan Rogue new 20 digit
2004 Cadillac CTS
2016 Honda Odyssey - prox
2007 Peugeot 307
2008 Subaru Outback AKL
2009 Toyota Camry
06 BMW 5-series cas2
2008 Chrysler 300
2007 Renault megane2
2016 Dodge Caravan
06 F150
2012 Mazda 3 Prox
2009 Chrysler 300
2012 Ford F-250-
2014 Ford Fiesta No 10 min wait!
2014 Chrysler Town & Country
2013 Honda Civic
2010 Jeep Patriot
2013 Ford F150
10 Ford Mustang under Kuga by pass
2010 Chevy silvera do
2008 Lexus IS250 (Under IS300)
2013 Mazda 3
2008 Jeep Grand Cherokee
2006 Subaru Forester remote
2012 Nissan Sentra
2010 GMC Acadia key and remote
2010 Mountaineer
2015 Kia Optima remote
14 Chevy camaro rea pin number type5
2007 Ford Taurus under explorer 2007
2016 Ford F150 Prox
2017 nv200
2003 Mitsubishi eclipse
2006 Chrysler 300
2016 Honda Civic turn key
2013 Nissan Rogue
2016 Ford Taurus prox
2013 Dodge Caravan
208 Toyota Camry
2016 Hyundai Elantra
2010 Mercury Mountaineer
2012 Nissan Versa
2008 Honda CR-V
2016 Nissan Rogue
2010 Chevy Malibu
Test in vw amarok, program key done, kms done !
mini cas3 done, all key lost bmw 540 cas2 japon model done. volvo xc60 done
reset G immobox done, immobox vw read pincode ok but no program key ??????
2005 Renault Scenic 3 button card key. Key was coded within 1 minute without the need to enter a pin code.
2007 Suburu Impreza. ID62 chip coded using System 1
2007 Nissan Qashqai. took me 5 minutes to code remote key. Would have taken less if I didn't have to go through the different systems before device communicated properly.
The pin was automatically generated and entered buy device. see photo
All European Cars
---